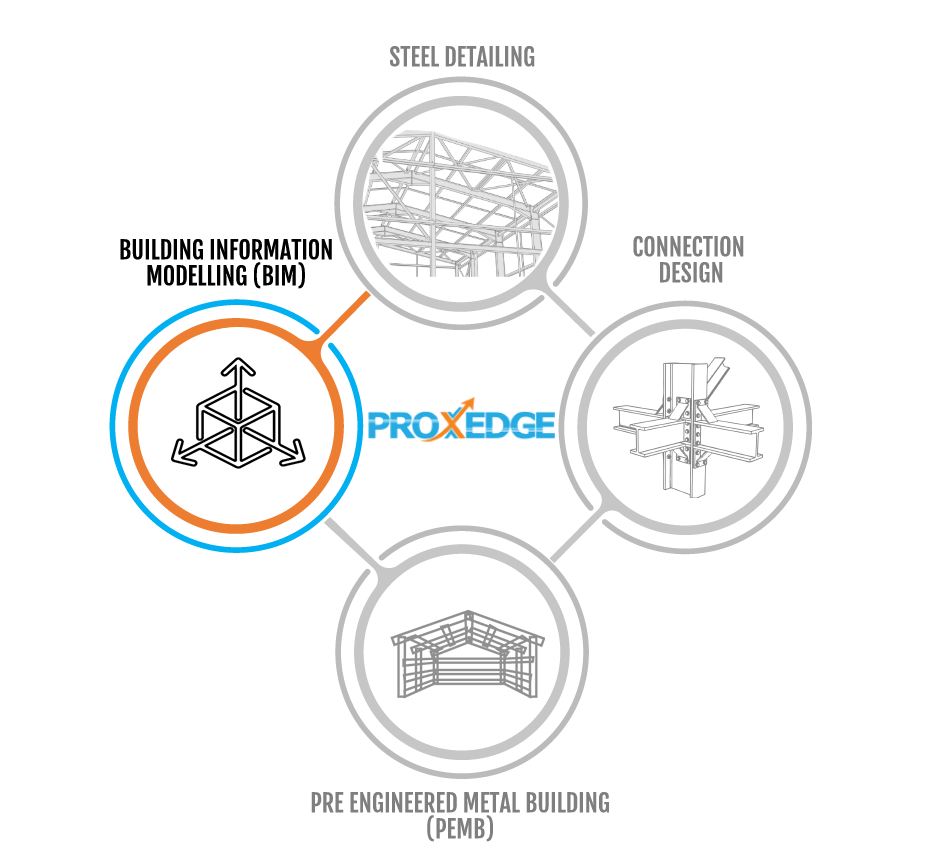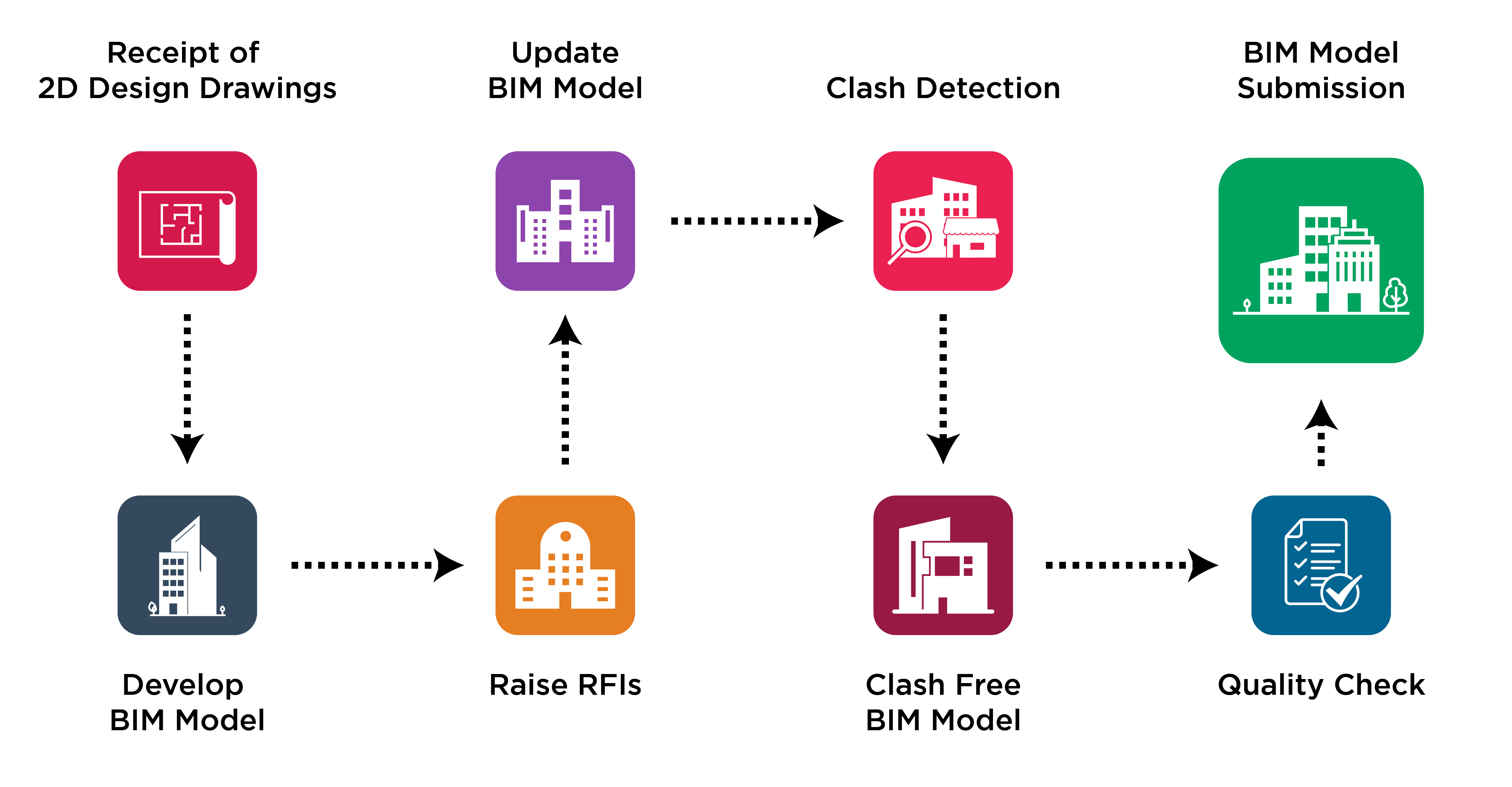 //About BIM services
BIM

SERVICES
Experts in delivering highly enhanced BIM Modelling services for better visualization and coordination
Our accurate and precise 3D BIM models based on given data is helping engineers, architects and designers in improved workflow collaboration.
Proxedge is assisting AEC sectors in putting BIM technology to more enhanced use.
Our team of experts have been successfully delivering quality customized BIM services to Architecture, Engineering and Construction firms across the globe.
At Proxedge, we ensure that our BIM services encompass all the aspects from architecture, design, layout, structure, interiors, site development and MEPF. We aim to provide reliable and top-quality BIM services to our clients.
Our professionals excel at creating cutting-edge 3D models for the AEC industry, which assist them to achieve their construction and engineering objectives. We have aided several AEC firms in achieving their business objectives through our building information modelling services.
OUR CATALOGUE OF

ARCHITECTURAL

SERVICES

INCLUDES
3D Modeling
3D BIM Modelling assists architectures, constructors and engineers with advanced tools and valuable insights into the infrastructure. The cutting-edge BIM technology has equipped the AEC sector to plan, construct, design and manage building constructions.
Our BIM team provides 3D BIM services ranging from LOD100 to LOD500 for a variety of building types, including commercial malls, recreational parks, hospitals, airports and railways, residential townships, infrastructure, industrial production facilities, and more. To achieve uniform modelling standards, our professionals are well-versed in LOD criteria from throughout the world.
4D Modeling
4D BIM models are equipped with a time frame for supply delivery, installation of components and construction progress. It offers accurate project schedule with an animated view of project progress and project completion. It helps to identify and imagine any logistical challenges and inefficiencies during the project progress.
Our 4D BIM services team formulates the critical project path that helps the construction firm to get in-depth insights about the phasing schedule. With our 4D BIM solutions, you can efficiently manage time constraints even before the actual construction has started. We have experts that will help you save time and materials with the effective use of 4D BIM services.
5D Modeling
One of the most crucial components of any construction project is accurate cost estimation, which may help establish the project's feasibility as well as define the project's budget and bidding amount. Construction cost estimation in 5D BIM is a new technique to document all information required for a building project, allowing estimators to calculate and estimate the cost of a project with greater precision.
At Proxedge, our BIM team takes your 3D modelling and 4D scheduling plans to the next level. We add the 5th dimension to the BIM models and assist AEC firms to plan their project budget systematically.
6D Modeling
BIM technology is transforming the AEC sector with its intelligent smart tools and features. The 6D BIM modelling is helping contractors, engineers and architects to design and plan energy-efficient and sustainable construction models at the initial design stages itself. With the invention of the 6D BIM modelling tool, we are moving forward towards a better future.
At Proxedge, our 6D BIM team provides facility managers with a powerful tool. With our assistance facility managers can now effectively operate, manage and maintain building elements.
7D Modeling
The use of building information modelling (BIM) data and information is to improve the effectiveness of facility management (FM) solutions is a new field in the AEC industry. Many property owners currently use BIM to save money and time during the design and construction process.
Visualization
We generate 3D, 4D, and 5D models utilizing real data in a BIM tool, and then develop a realistic virtual depiction of a construction project based on those models for enhanced visibility.
We offer house builders, retailers, architects, and general contractors professional and high-quality 3D architectural visualizations, AR/VR, photomontages, rendering, and animation services.
Our visualizations are based on the concept, theme, greenery, fixtures, fittings, and furniture that you offer. Design content, contract drawings, specification documents, and hand sketches are just some of the inputs that go into our product.
Clash Co-Ordination
Clashes in form of design issues and clichés are common in projects where multi-discipline professionals are involved. Clashes that go undetected cause serious problems during the later construction stage.
Proxedge offers integrated clash solutions for smooth construction and efficient coordination. We have a team of experienced professionals who are proficient in on-site and software tools for clash detection and resolution.
Our team not only provides both soft and hard copy clash detection reports but also ensures systematic solutions. Proxedge has a very dynamic team of engineers, architects, software developers to quickly diagnose and fix clashes within BIM models.
Scan To BIM
The process of transforming point cloud data into an intelligent real-time 3d model is known as scan to BIM. Any physical place could be used to acquire point cloud data. The information gathered can be used to create data-rich 3D models. This level of detail might be used for designing, retrofitting, repairing, and renovating any physical space.
After obtaining the point cloud data, the first step is to import the cloud data to the BIM platform to create an accurate As-built BIM model that represents all of the necessary elements.
At Proxedge, we offer Scan to BIM services to our customers so that they may complete their point cloud modelling projects on time. We believe in accurate and flawless project delivery.